Bragod at the Royal Court, London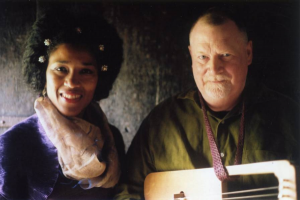 What's happening? We're going to see one of Wales' most astonishing exports – the piquant music experience Bragod. Mary-Anne Roberts and Bob Evans perform as Bragod, the only music group in the world giving audiences access to a medieval sound world of Welsh ritual music and poetry from the 6th century to Welsh song of the 18th and 19th century. Bob Evans is a world authority on the six-stringed ancient harp, the Crwth, and Mary-Anne Roberts interprets the texts, in a unique and compelling style that has led to performances across the world form music festivals, universities and major night clubs.
'What winter confines, spring releases, summer heats and autumn ripens.' Boethius 6th century.
Date: Thursday 21st November, 2019
Time: 9.30pm
Place: Royal Court Theatre, Sloane Square, London SW1W 8AS
Involvement: Public event, free
‹ Back to treasure hunt activity